This site is dedicated to the celebration and memory of Lindsay's life.

The Lindsay Rachel Giacomelli Memorial Fund was established in Lindsay's name as a memorial to her short life (June 18, 1984 to March 18, 2005). The goal of the fund is to keep Lindsay's name and presence alive and to reflect her generous and caring spirit and to provide charitable grants to Calgary area causes forever, all in Lindsay's name.
The Fund was conceived by Lindsay's Grandfather (Grandpa Bill) on March 21/22, 2005 when the family and extended family were gathering at her parents' home and preparing for the memorial service to be held on March 23, 2005. (That date was Holy Wednesday of Easter Week 2005. In 2016 that same day and date occurred, 11 years later, and will next occur in 2157). At the time, they had no idea or plan for the Fund, but it was created through the Calgary Foundation.
The first fund raising event was an impromptu golf tournament. As Lindsay's birthday of June 18, 2005 approached, her Dad phoned his good Buddy Dave up and said"…hey why don't we get a few guys out for golf on Lindsay's birthday, and get me out of the house, and maybe raise a few dollars for the Fund?". The answer was"…already organized and waiting for you to call." With that first tournament we had 56 golfers and raised $11,000 for the Fund, and have never looked back. In each subsequent year from 2006 through to 2015 the golf tournament became formal, and was held as close to June 18 (Lindsay's birthday) as possible. Golf in June is questionable. Either rain or snow or both and rarely sunny. We lucked out though, and actually had many sunny day events. Each year the tournament was sold out with 128 to 144 golfers and 150 to 160 people at the follow-up dinner and silent auction. There was great support from all. In the final 3 years (2013-2015) the tournament was fully committed with 144 golfers before the end of January of the respective year, with 25-26 corporate sponsors. The event raised $45K, $48K and $51K in those final years 2013 to 2015. At the conclusion of the 2015 golf tournament the Fund was at almost $500,000 value.
The 2015 tournament was the 11th and final (for a while). It's time to try something new before we get old and stale. Maybe we'll resurrect it on the 15th or 20th anniversary/maybe not. In 2015 we also had what may be "the inaugural barn dance" on Saturday following the tourney this year, with invitations to long time tourney participants and sponsors, with 110 people attending. In 2016 we repeated with 169 people, and we're back on track for the 2017 event.
Thanks to your generous support over the last 11 years at the golf tournament and 2 years of the barn dance, we granted approximately $163,391 ($116,391 from Lindsay's Fund and $47,000 from Golf Tournament sponsors) to the various charities listed below, AND we built up Lindsay's Fund to approximately $511,646 as of April 28, 2017.
The Lindsay Rachel Giacomelli Memorial Fund is an endowment fund administered by the Calgary Foundation. All contributions to the fund remain at the Foundation forever. Each year 4.0% of the fund's value is used for a charitable grant to a local cause. Tax deductible gifts to Lindsay's Fund are graciously accepted by the Calgary Foundation on-line at: https://payment.csfm.com/donations/calgaryfoundation/index.php.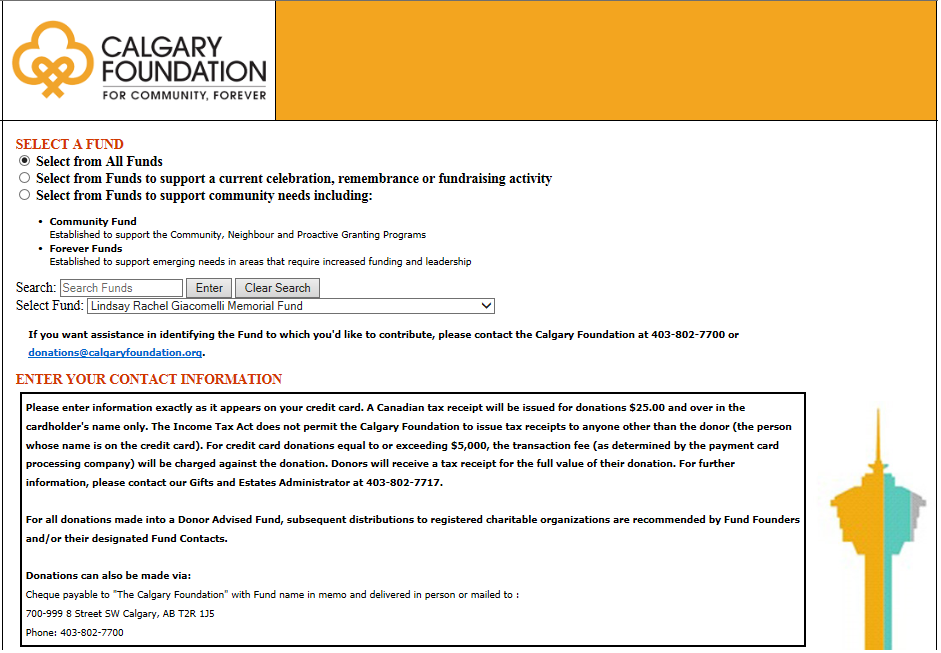 Grants over the various years have been made to:
• The Calgary Zoo, new elephant house (2006)
• The Military Museums Expansion (2007)
• Alberta Children's Hospital Foundation, Rotary/Flames House (2008)
• Calgary Health Trust, Foothills Hospital ICU priority equipment (2009)
• Alberta Ballet (2010)
• Alberta Children's Hospital Foundation, Special Children's Fund AND Military Museums Princess Patricia Canadian Light Infantry gallery expansion (2011)
• The Mustard Seed (2012)
• Calgary Health Trust, Foothills Hospital ICU specialized equipment (2013)
• Alberta Adolescent Recovery Centre (2014)
• Kids Help Phone (2015)
• The Light Up Papua New Guinea Project in memory of Captain Nichola Goddard (2006-2015)
• The Sheldon Kennedy Child Advocacy Centre (2016)
The 2017 charitable grant will be provided to the Alberta Ballet (for the Muriel Taylor Dancer Development Fund), and Alberta Children's Hospital Foundation / Rotary/Flames House (for the Respite Care Program).
Alberta Ballet
Dancers, like professional athletes, need to position themselves for a career path after they retire from the stage. The Muriel Taylor Dancer Development fund supports dancers in two ways: 1. it provides them with off-season employment opportunities; and 2. it focuses on off-season internships that give the dancer a new skill set that can be leveraged for a future career path.
25% of donations in this program will be assigned to the professional development of the Dancer's career post-dance.

Your investment will help the Alberta Ballet employ dancers with internships either at Alberta Ballet or with Alberta-based companies interested in working with Alberta Ballet toward this cause.
Rotary/Flames House
At the Rotary Flames House, the goal of respite care for children with serious illnesses is to provide time out for caregivers who are providing the bulk of care to their child. This respite option allows them to get some rest, tend to other children or simply do the weekly shopping. Frequently, parents are exhausted but desperately want to keep going.
It is wonderful to be able to offer families short breaks for a day or two up to two weeks at a time. Many parents have never left their fragile child. Many of the tired parents haven't gone on a holiday, out to a movie, or even got a full night's sleep in years. Taking time for themselves to rest and recharge is now an option. When they come to the Rotary Flames House they begin to realize they are not alone. There are people to help them, to love their child and to give them a chance to leave their child without worrying.
Rotary Flames House also offers day programming, special events and outings for these families.
In 2015 there were 324 Rotary Flames House admissions which included admissions for Respite care; symptom management and transition care; and End of Life. The total number of respite nights was 1227 out of 1960 nights of stay at Rotary Flames House.
The overall number of day programming visits was 266.
The establishment of this fund provides our family extreme comfort in the knowledge that the fund will provide charitable donations to Calgary and Alberta area causes forever, all in Lindsay's name. We are extremely grateful to all participants in every aspect of the tournament and the Fund.
Leslie, Gerry, Nicholas & Stephanie Giacomelli